Drinks:
Witches Brew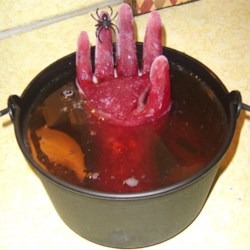 Ingredients:
Seltzer water or diet 7up
Orange juice, No Added Sugar (50 calories per cup, half the calories of regular orange juice)
1 small package frozen blue berries, thawed
1 (10 ounce) package frozen raspberries, thawed
2 1/2 cups light or diet cranberry juice
2 envelopes unflavored gelatin
1 Rubber glove
Directions:
To make the frozen hand: Wash and rinse the outside of a rubber glove. Turn glove inside out and set aside. In a bowl, combine the thawed raspberries and cranberry juice.

Pour 2 cups of the raspberry mixture into a small saucepan (do not heat yet). Sprinkle the gelatin over and let stand 2 minutes. Warm over low heat, stirring constantly, just until gelatin dissolves. Mix back into the reserved raspberry mixture in the bowl.

Pour raspberry mixture into the inverted glove. Gather up the top of the glove and tie securely. Freeze until solid, or several days if possible.

To serve: Carefully cut glove away from frozen hand. Place frozen hand, palm side up, leaning against side of a large punch bowl. Pour in diet soda and orange juice. Add thawed blueberries, they will float at the top and look like eyes.
Pumpkin Smoothies
Ingredients
1/2 cup canned pumpkin
3/4 cup fat free vanilla yogurt
1/4 tsp. cinnamon
1/8 tsp. nutmeg
2 tsp. brown sugar (or Splenda bown sugar mix)
4 ice cubes
Directions:
Combine ingredients in blender and puree until smooth. Pour the smoothies into small glasses (this drink is rich) and garnish each with a dollop of vanilla yogurt or whipped topping. For a fun touch, add a pinch of cinnamon or a few colored sprinkles. Serves 2.
Makes 2 servings. Nutrition Facts for 1 serving: Total Calories 80; Calories from Fat 13.5, Total fat 1.5g, saturated fat0.04g, cholesterol 1.88mg, sodium 40.02mg, total carbs 17g, Dietary fiber 2.5g, sugar 12g, protein 3.5g
Appetizers and snacks:
Grave yard layer bean dip
I made the above dip grave yard as a tribute to Cynergy's recently deceased fish friends
Ingredients:
1 can refried beans, fat free (acts as dirt)
1/2 cup salsa (acts as blood)
1 Avocado, mashed
1 small (single serving) container of fat free plain yogurt
1 package shredded lettuce (acts as grass)
pretzel sticks, cut in half (lay 3 halves in a row by tombs--see below-- to resemble freshly dug graves)
broccoli, cut into small sections (acts like bushes and trees)
Low calorie wraps or whole wheat pitas, cut into tomb stones and ghosts-- see below recipe for chips
To make tomb stones and ghosts:
Preheat oven to 350°F. Coat a baking sheet with cooking spray.
Using a few Halloween-inspired cookie cutters, cut shapes from tortillas or pitas.
Arrange as many shapes as can fit in a single layer on oiled sheet.
Coat tortillas with cooking spray.
Bake until slightly darkened and crisp, 10 to 12 minutes. Transfer to a wire rack to cool.
Repeat with remaining tortilla shapes, using a clean, cooled baking sheet.
To make layered dip
First layer should be the refried beans followed by salsa.
In a small bowl mash the avocado and mix in plain yogurt. (If desired can add slices of red onion which could be snakes)
Layer the avocado mixture over the salsa layer.
Add the shredded lettuce over the avocado layer.
Add the pretzels, tomb stone and ghost chips, and broccoli on top of the dip.
Fingers
Ingredients:
baby carrots
sliced almonds
Hummus
Directions:
Use hummus to adhere wider end of the almonds to the narrow part of baby carrots.
Fill a small bowl with more hummus and stick the bottom part of 5 finished carrots into it so that it looks like fingers sticking up out of the ground.
Eye ball crackers
Ingredients:
Whole wheat crackers ("whole" is the first word on the ingredients list)
Reduced sugar strawberry jelly
Reduced fat cream cheese
Dark chocolate chips
Directions:
Coat a cracker with the red jelly, then a small circular shaped amount of cream cheese, and top with a chocolate chip
Goblin Grins:
Ingredients:
Pea pods
1 red bell pepper
few slivered almonds
Directions:
For each one, use the tip of a paring knife to cut a slit centered in one side of an edible pea pod (a parent's job).
Cut out a tongue shape from red bell pepper and insert the top of it through the opening in the pea pod (it looks best if the inside of the pepper faces up).
For the finishing touch, insert a few slivered almonds for teeth.
Snack-O-Lanterns
Ingredients:
Navel orange
Canned or fresh fruit salad
Directions:
To make one lantern, use a small knife to slice the top off a navel orange and cut around its interior to hollow it out. Scoop out the orange segments, chop them, and mix them with canned or fresh fruit salad.
Carve small facial features in one side of the orange, then cut a slit in the lid to accommodate the handle of a green plastic spoon. Fill the lantern with fruit salad. Insert the spoon and set the lid in place.
Spooky Eye Ball Tacos:
Ingredients
:
1 lb. lean ground turkey
1 pkg. (1-1/4 oz.) Taco Seasoning Mix
12 Taco Shells
1 medium onion, diced
1 tomato, diced
1 bag shredded lettuce
3/4 cup Salsa
3/4 cup light or reduced fat Sour Cream
1 can (2-1/4 oz.) sliced black olives, drained
Directions:
Preheat oven to 350 degrees.

Mix the meat and seasoning mix; shape into 1 inch balls. Place in 15x10x1 inch pan.

Bake 15-20 minutes or until done (180 degrees according to meat thermometer

Fill each taco shell with tomatoes, onions, salsa, and lettuce.

Top with 2 meatballs dipped in sour cream. Garnish with olives to resemble eyeballs.
Spooky Mini Pizzas:
Ingredients:
Wheat Pizza Dough:
If you don't want to make your pizza dough, than you can buy pizza mix from the store for about 70 cents per box. I have not found whole wheat pizza mix though.
1 package highly active yeast
1.5 cups white flour
1 cups whole wheat flour
1 cup water, warm
1 Tablespoon olive oil
1 Teaspoon sugar
More white flour for rolling out dough
Halloween cookie cutters
Toppings:
Pizza sauce
mozzarella cheese, shredded
cheddar cheese, shredded
sliced black olives
green peppers, sliced into strips
red peppers, sliced into strips
onions, sliced or diced
Canadian bacon
pineapple
Directions:
Pour yeast, sugar, and warm water in a bowl and let sit for 5-10 minutes.
Add flour and oil and mix.
Let dough rise for about 15 minutes. In the mean time preheat the oven to 350 and cut up your toppings.
Good toppings include veggies like green peppers, onions, black olives (look like eyes).
mozzarella cheese (good for ghost shaped pizzas)
orange cheese (good for pumpkin shaped pizzas).
Meats that are healthy include turkey pepperoni or turkey sausage, Canadian bacon (Often paired with pineapple).
Roll out the dough. You will need to add more flour to rolling pin and top of dough if it is too sticky.
Use Halloween cookie cutters to cut the dough into Halloween shapes.
Spray a cookie sheet and place Halloween shaped dough on it. Bake without toppings for about 5-7 minutes.
Add toppings and bake another 8-10 minutes until cheese is melted and vegetables look done
Dessert:
All Bran Baked Apples
Ingredients:
6 baking apples
1/2 cup Kellogg's® All-Bran® Original cereal
1/4 cup raisins
1/4 cup chopped dried apricots
2 tablespoons chopped pecans, toasted
2 tablespoons butter or unsalted butter, melted
2 tablespoons brown sugar
1/2 teaspoon cinnamon
1/2 cup apple cider
Directions:
Core apples. Peel 1-inch-wide strip from top of each.
Stir together KELLOGG'S ALL-BRAN Original cereal, raisins, apricots, pecans, butter, brown sugar and cinnamon.
Firmly pack cereal mixture into apple cavities. Place in 11 x 7 x 2-inch baking dish coated with cooking spray. Pour cider over top. Bake, uncovered, at 375°F about 50 minutes or until apples are tender.
Popcorn Balls
These are less calories than the traditional popcorn balls made with corn syrup however they are still dessert so moderation will go a long way.
Ingredients:
1 bag marshmallows
2 Tablespoons butter
1 Microwavable bag of reduced fat/ fat-free popcorn
1/2 cup candy corn
1/4 cup peanuts or other nuts
Directions:
Pop popcorn and pour into a large bowl. Gently shake the bowl so that the unpopped kernels fall to the bottom. (No one wants to chip a tooth on an unpopped kernel!)
Prepare a cookie sheet with cooking spray.
Melt butter in a large pot and add marshmallows. Melt marshmallows and stir often to prevent burning.
Gradually add popcorn (watch for the kernels), then add candy corn and peanuts last, and mix until combined.
Pour mixture onto the greased cookie sheet and spread it out as much as possible. Let mixture cool completely for about 30 minutes. If mixture is not completely cool, than you will be very frustrated during the next step.
Spray hands and the top of the mixture with cooking spray to help prevent sticking. Form 12 balls and let sit on cookie sheet for about 5 minutes to make sure they keep their form.
Put popcorn balls in decorative Halloween bags and give to guests as party favors.